Tag Archives:
Sprint Burndown Chart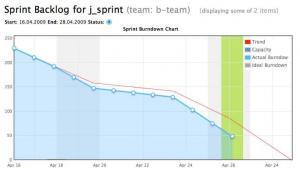 April 20, 2015
The sprint burndown chart is a key tool to monitor the progress of your team during a sprint. The chart measures remaining work against time. The sprint burndown chart's primary purpose is to show whether the team will be able to complete the sprint work. Beyond this primary purpose, the sprint burndown chart can also expose the reality of how your team is performing.
PMI, PMP, CAPM, PMI-ACP, PMI-RMP, and PMBOK are all registered marks of the Project Management Institute, Inc.