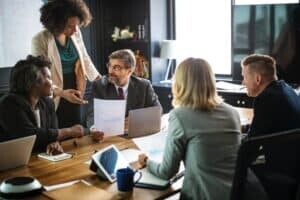 June 11, 2019
We believe Agile can significantly improve a team's capability to deliver tangible outcomes quickly. In fact, because we are so committed to developing Agile capabilities—and to accelerating business outcomes—we are pleased to offer our clients new Outcomes-based pricing as part of our Agile Transformation practice.
April 28, 2019
Scott Barrows had growing pains. The COO of Multi-Craft Contractors (MCC) saw the potential for growth but knew he needed to sharpen MCC's edge in the highly competitive industrial construction landscape. To pull ahead of the competition, Barrows sought out RefineM's help to build consistent processes and get 11 divisions of his company on the same page.
February 20, 2018
Approximately 22 million project managers will be needed between 2017-2027 worldwide.
January 25, 2018
December 18, 2017
RefineM CEO and lead instructor NK Shrivastava has been featured in the November-December 2017 issue of Biz 417 magazine. In this issue, Shrivastava shares four steps to follow when launching a new project:
PMI, PMP, CAPM, PMI-ACP, PMI-RMP, and PMBOK are all registered marks of the Project Management Institute, Inc.