February 20, 2018
Approximately 22 million project managers will be needed between 2017-2027 worldwide.
January 25, 2018
December 18, 2017
RefineM CEO and lead instructor NK Shrivastava has been featured in the November-December 2017 issue of Biz 417 magazine. In this issue, Shrivastava shares four steps to follow when launching a new project:
August 8, 2017
On Tuesday, August 8, RefineM CEO NK Shrivastava was interviewed live for Springfield television station KOLR-10's "OzarksLive" program as part of its Business Spotlight.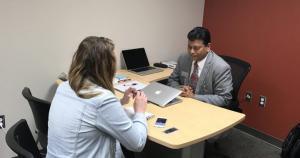 April 9, 2017
RefineM has recently been featured in two prominent business journals in the southwest Missouri area. First, RefineM was featured in volume 11, issue 17 of the Joplin Regional Business Journal, which was published for the week of November 21-December 4, 2016 and serves the Joplin Regional Business area, including southwest Missouri, southeast Kansas, and northeast Oklahoma. On April 3, RefineM was profiled as a Business Spotlight in the Springfield Business Journal, which serves the Springfield, Missouri business area.
PMI, PMP, CAPM, PMI-ACP, PMI-RMP, and PMBOK are all registered marks of the Project Management Institute, Inc.