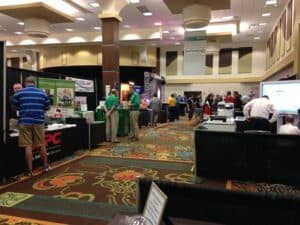 October 18, 2016
For the third consecutive year, RefineM will join nearly 70 other exhibitors during the 7th Annual techITout Technology Showcase and Expo on October 20, 2016, at the Oasis Convention Center in Springfield, Missouri. Just as with previous events, RefineM staff will be available to give an in-depth look at the company's project management consulting services and products, and will provide information on upcoming trainings and courses available online and at various locations nationally.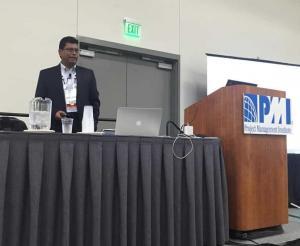 October 6, 2016
From September 25 to 27, 2016, RefineM's CEO and Lead Instructor, NK Shrivastava, attended and presented at Project Management Institute's (PMI)® 2016 Global Congress in San Diego, California. This was Shrivastava's fourth year presenting at this prestigious event.
Each year at Global Congress, project managers from all over North America and beyond gather together to learn from multiple industry leaders in project management. These industry leaders present on best practices and pioneering topics. By attending Global Congress, project managers and Agile practitioners are able to take away valuable information to implement within their own teams and organizations.
Shrivastava's presentation this year was titled "Top Five Warning Signs Agile is Not Working For You," which covered the five most common warning signs that an Agile implementation is not working in an organization. More than 60 attendees learned symptoms of each warning sign and ways to move beyond these challenges and succeed with Agile.
Shrivastava concluded his time at Global Congress by saying, "This year's Global Congress was yet another successful [event] for me. My session on Agile went very well, and it was well attended and well received. I was interviewed for a podcast that goes live in December. I made some new connections and had fun at the Petco Park in downtown San Diego. Overall, it was a great Global Congress, and I look forward to speaking at the next Congress in Chicago in 2017."
RefineM is very pleased with the outcome of Shrivastava's presentation at Global Congress and is already looking forward to next year's event. Additionally, he will be featured as a guest speaker in an episode of Cornelius Fichtner's Project Management Podcast to be published in December. More information regarding this exciting interview will be posted soon.
PMI is a registered mark of the Project Management Institute, Inc.
September 26, 2016
RefineM CEO and Lead Instructor NK Shrivastava will be recognized as a contributor and reviewer for his recommendations and expertise to the upcoming sixth edition of A Guide to the Project Management Body of Knowledge (PMBOK® Guide). He will be listed in the Final Exposure Draft Review section for his contributions during the production of the draft version of the guide. Being credited as a reviewer in this manner is both a testament to Mr. Shrivastava's influence in the field of project management and an acknowledgement to his commitment to further the overall body of knowledge as a professional consultant and trainer.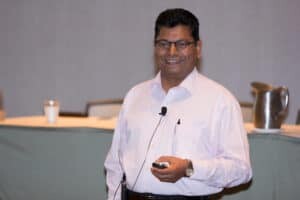 September 21, 2016
RefineM's CEO, NK Shrivastava, will be presenting at the Project Management Institute's (PMI)® Global Congress North America 2016 from September 25-27 in San Diego, the third year in a row and fourth overall he has been selected to present. PMI's Global Congress North America brings together experts and practitioners in diverse fields, including project management, agile, and business analysis, to network and exchange knowledge. 2016's theme is "Anticipate, Influence, Elevate," representing the three parts of PMI's Talent Triangle and how each contributes to project management success.
May 17, 2016
On Tuesday May 17, 2016, RefineM released a beta version of their very own Project Management Professional (PMP)® exam practice test site. The final version of the site is expected to be available mid-June 2016. As part of this beta release, anyone who signs up between May 17, 2016 and June 17, 2016 will be able to explore the site and take mock exams on the site for free for 30 days. Any feedback on the beta release of the site is welcomed and encouraged.
March 15, 2016
From February 26-28, 2016, RefineM sponsored the annual Project Management Institute (PMI®) Region 6 Conference, which was held in New Orleans, Louisiana. At this conference, chapter leaders from 26 PMI chapters throughout the states of Arkansas, Colorado, Kansas, Louisiana, Mississippi, Missouri, Oklahoma, and Texas were present. These chapter leaders were able to learn more about their various leadership roles within their respective chapters. As a sponsor of this event, RefineM showed its continued support of PMI chapters and the importance that PMI chapters play in the field of project management.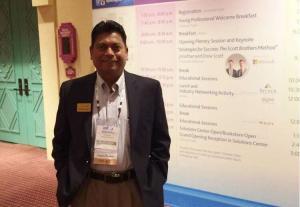 October 19, 2015
From October 11-13 RefineM's CEO, NK Shrivastava, attended and presented at Project Management Institute's (PMI)® Global Congress North America (GCNA) 2015 in Orlando, Florida. This is Shrivastava's third year presenting at Global Congress.
September 14, 2015
RefineM is looking forward to exhibiting at two innovative events in Springfield, Missouri, this September. Both events bring together experts in their respective fields to exchange knowledge and ideas. As an exhibitor, RefineM will be sharing the value of project management in enhancing the value and quality of companies within these industries.
July 21, 2015
RefineM's CEO, NK Shrivastava, recently received the honor of acceptance to present at the Project Management Institute's (PMI)® Global Congress North America 2015. The event brings together key experts and influencers in the field of project management to exchange knowledge and ideas. Congress speakers are selected for their passion and expertise, as well as their potential to share how they have achieved success in order to inspire others to action.
June 15, 2015
RefineM recently has the pleasure of working with two new nonprofit clients, Teen Challenge USA and Enactus USA. RefineM is providing project management resources to help each organization reach their goals. Teen Challenge USA offers guidance and resources for youth, adults, and families who struggle with drug addiction and other life-controlling issues, providing mental and emotional balance to their lives. RefineM is helping Teen Challenge USA accomplish their mission by providing consultation in IT project management. Enactus USA, an international non-profit organization, facilitates entrepreneurial activities by bringing together students and leaders in business and academics to implement community empowerment projects. By providing operational PMO, RefineM's tools and resources aids Enactus USA in empowering global leaders.
PMI, PMP, CAPM, PMI-ACP, PMI-RMP, and PMBOK are all registered marks of the Project Management Institute, Inc.