RefineM to Showcase Project Management Services at 2016 techITout Expo
October 18, 2016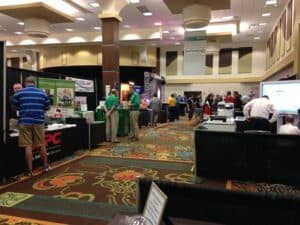 For the third consecutive year, RefineM will join nearly 70 other exhibitors during the 7th Annual techITout Technology Showcase and Expo on October 20, 2016, at the Oasis Convention Center in Springfield, Missouri. Just as with previous events, RefineM staff will be available to give an in-depth look at the company's project management consulting services and products, and will provide information on upcoming trainings and courses available online and at various locations nationally.
Presented by the Southwest Missouri Chapter of the Association of Information Technology Professionals (AITP), techITout is the largest event of its kind in the region, bringing together nearly 800 IT professionals and specialists from across the country. Attendees can learn more about different technological and financial challenges in various industries, network with industry professionals, and share their IT experiences and solutions at this all-day event by visiting the different trade show booths attending on the day.
A wide range of exhibitors from the different industries that rely on IT services are expected to make an appearance, including professionals from the finance and marketing sectors. There will even be opportunities for visitors to expand their knowledge by attending financial seminars and other exciting workshops as well as product and service demonstrations.
"techITout has been a great conference for us," said RefineM CEO and Lead Instructor NK Shrivastava. "This is an excellent marketing platform for our company to the IT professionals in the area. We developed new connections and succeeded in spreading the word about our company at last year's conference. We are looking forward to this year's conference with similar, or even better, success."
RefineM will be located at booth space 52 in the main exhibition hall. Visitors to the booth should stop by for giveaways, candy, and informational materials highlighting RefineM's project management consulting services and trainings. Visitors can be entered to win a $100 Amazon gift card that will be drawn at the end of the event.
For more information about techITout, or to see the event schedule and sponsors, visit the event website at techIToutexpo.com. We look forward to seeing you there.