RefineM Celebrates Fifth Anniversary
April 9, 2017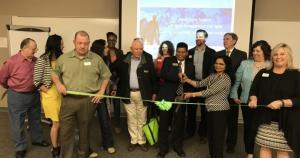 On Tuesday, March 21, RefineM celebrated its fifth-year anniversary with a ribbon-cutting and party at the eFactory in downtown Springfield. Representatives from the Springfield Area Chamber of Commerce and eFactory joined family and friends of the RefineM team and CEO NK Shrivastava to celebrate. Following the ribbon cutting, NK addressed the crowd to reflect on the growth of RefineM over the first five years, highlight the contributions of RefineM team members and the area business community, and describe his vision for the future.
All of us at RefineM are thankful to our customers, our team, our hosts at the eFactory, and the area business community for helping us grow and thrive in this critical period for businesses. We look forward to the next five years and beyond.
RefineM offers project management and agile consulting, training, and coaching to help companies increase their competitive advantage. If you're interested in an engagement with us, send us an email at Contact@RefineM.com or fill out the form below.
Error: Contact form not found.