RefineM Shows a Strong Presence at 2016 Annual PMI Global Congress
October 6, 2016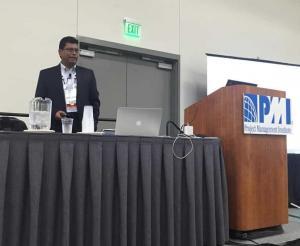 From September 25 to 27, 2016, RefineM's CEO and Lead Instructor, NK Shrivastava, attended and presented at Project Management Institute's (PMI)® 2016 Global Congress in San Diego, California. This was Shrivastava's fourth year presenting at this prestigious event.
Each year at Global Congress, project managers from all over North America and beyond gather together to learn from multiple industry leaders in project management. These industry leaders present on best practices and pioneering topics. By attending Global Congress, project managers and Agile practitioners are able to take away valuable information to implement within their own teams and organizations.
Shrivastava's presentation this year was titled "Top Five Warning Signs Agile is Not Working For You," which covered the five most common warning signs that an Agile implementation is not working in an organization. More than 60 attendees learned symptoms of each warning sign and ways to move beyond these challenges and succeed with Agile.
Shrivastava concluded his time at Global Congress by saying, "This year's Global Congress was yet another successful [event] for me. My session on Agile went very well, and it was well attended and well received. I was interviewed for a podcast that goes live in December. I made some new connections and had fun at the Petco Park in downtown San Diego. Overall, it was a great Global Congress, and I look forward to speaking at the next Congress in Chicago in 2017."
RefineM is very pleased with the outcome of Shrivastava's presentation at Global Congress and is already looking forward to next year's event. Additionally, he will be featured as a guest speaker in an episode of Cornelius Fichtner's Project Management Podcast to be published in December. More information regarding this exciting interview will be posted soon.
PMI is a registered mark of the Project Management Institute, Inc.