Which Scheduling Tool is Best for You?
July 25, 2012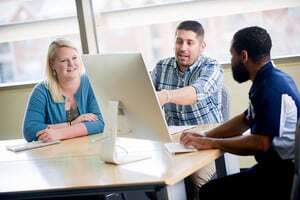 Every project manager needs a good scheduling tool, regardless of the size of his or her organization or the number of projects they are managing. The question is which scheduling tool is best for you? Until about early 2000, Microsoft Project was almost the default choice. But now there are several choices.
If you're interested in knowing more about selecting an Enterprise Project Management (EPM) tool, please read RefineM's blog post on EPM tools.
While this recent influx of scheduling tools might be confusing at first, Gartner's reports can help you get a picture of the spectrum of tools that are available today.
But how do you find the right tool for you? There are a few benchmarks you should keep in mind. Small businesses can use MS Office (Word, Excel & Outlook) and MS SharePoint (for sharing documents) to manage projects. But this tool set will not take them too far. Eventually the organization will need a more formal scheduling tool. At that time, introducing MS Project is a good idea. Some feel that MS Project has a steep learning curve, but I don't agree. You don't need to know everything (actually it is almost impossible to learn everything) to start using MS Project. Most project managers can start creating project schedules on MS project with just a day of training. After a while the organization will grow out of MS Project as well; at that time they will need a more comprehensive and integrated project/portfolio management tool such as Clarity, Planview or HP PPM. (If you are looking for more guidance in implementing Microsoft Project, consider RefineM's basic and advanced-level courses.)
Different organizations reach to these transition points at different times. The usual progression follows this pattern:
Level 1: Small Organization
Up to 50 projects active at a time, about 20 people involved in those 50 projects, project durations range from 1 week to a few months, number of activities in a project are up to 100. Scheduling is very simple; there are not too many dependencies and constraints. A formal scheduling tool such as MS Project may be overkill.
Level 2: Medium Organization
20-200 projects active at a time, about 15-100 people involved in projects, project durations range from a couple of months to a couple of years, activities range from a couple hundreds to a couple thousands. Scheduling is little bit challenging, with a few dependencies and constraints, so that there is a real need for a proper scheduling tool such as MS Project.
Level 3: Large Organization
More than 200 projects, more than 100 people involved in the projects, project durations are in multiple years, number of activities are in thousands. Scheduling is highly complex and centralized resource management may be necessary. For such organizations, MS Project may fall short of needs, and a more comprehensive PPM tool may be needed.
Essential Gear for Project Managers is a toolkit with the eight essential project management processes you need to deliver projects on time, on budget, and exceeding expectations. Delivered to you via intuitive templates and a handbook describing best practices and pitfalls.