What Can Sports Teach Us About Project Management?
August 8, 2012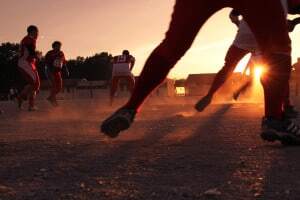 Sports can teach us a lot about project management. In fact, sports can simplify learning and make it interesting. Fans at home make sports interesting in their own way too, by visiting sites like FanDuel sportsbook to place a bet on their favorite team/s. Here are some aspects of project management that one can learn from sports.
If you enjoyed this post and are looking for more resources to help manage projects, consider RefineM's toolkit, Essential Gear for Project Managers.
Let's use the game of soccer as an example:
Clarity in objectives/goals.
Each team knows what their objectives are: win the game, score the maximum number of "goals", and not allow the other team to score any goals. These objectives are very clear, and no one has any doubts about them. Similarly, project management teams should have a crystal-clear idea about the project's objectives, as well as how to measure project success, deliver the greatest value, and deal with risks that can compromise the project.
Clarity in roles/responsibilities and expectations.
Based on his/her role, each player knows what is expected of him/her and what should he/she expect from other team players, as well as from the opponent. The front line player's role is to attack and the defender's role is to defend. Imagine the chaos that might result if front line players started defending and defenders started attacking? Similarly, project team members should not only know their roles, they should also know roles of others on the team and how each person contributes to fulfilling project objectives.
Teamwork and discipline.
Every player knows that they can't win if they don't play as a team where everyone plays their roles and staying within their defined boundaries. The project team also needs to understand this very well and play their roles and perform the project activities.
Processes/Rules.
Every player knows if they don't follow the rules, they are going to face the consequences, which could range from a simple warning to expulsion from the game. Project team members also need to know that there are going to be consequences for not following the processes/rules. They need to know they may get demoted, moved to another project, or fired.
Planning.
Every team plans a strategy before they go onto the field to play. The planning is normally done in the dressing rooms with the coach, the captain and the team members. They quickly perform the SWOT (Strengths, Weaknesses, and Opportunities & Threats) analysis and develop a game plan. The project teams should also spend time planning their projects and developing a game plan before starting the execution.
Agility.
The players consult among themselves and with the coach several times during the game. This is done to change strategy as needed to make the remaining game more favorable. The project team members need to be agile (fast, forward thinking and flexible) to adapt the new strategy quickly.
Lessons Learned.
Sports teams analyze their performance at the end of the game. If they lose the game, the teams perform the analysis right after the game. If they win, they celebrate and then analyze their performance. Similarly, the project teams should conduct lessons learned irrespective of the project outcomes.
What are your thoughts?
Essential Gear for Project Managers is a toolkit with the eight essential project management processes you need to deliver projects on time, on budget, and exceeding expectations. Delivered to you via intuitive templates and a handbook describing best practices and pitfalls.