March 15, 2016
From February 26-28, 2016, RefineM sponsored the annual Project Management Institute (PMI®) Region 6 Conference, which was held in New Orleans, Louisiana. At this conference, chapter leaders from 26 PMI chapters throughout the states of Arkansas, Colorado, Kansas, Louisiana, Mississippi, Missouri, Oklahoma, and Texas were present. These chapter leaders were able to learn more about their various leadership roles within their respective chapters. As a sponsor of this event, RefineM showed its continued support of PMI chapters and the importance that PMI chapters play in the field of project management.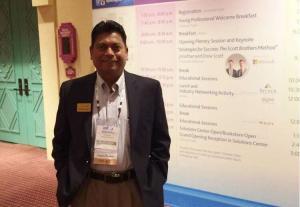 October 19, 2015
From October 11-13 RefineM's CEO, NK Shrivastava, attended and presented at Project Management Institute's (PMI)® Global Congress North America (GCNA) 2015 in Orlando, Florida. This is Shrivastava's third year presenting at Global Congress.
September 14, 2015
RefineM is looking forward to exhibiting at two innovative events in Springfield, Missouri, this September. Both events bring together experts in their respective fields to exchange knowledge and ideas. As an exhibitor, RefineM will be sharing the value of project management in enhancing the value and quality of companies within these industries.
July 21, 2015
RefineM's CEO, NK Shrivastava, recently received the honor of acceptance to present at the Project Management Institute's (PMI)® Global Congress North America 2015. The event brings together key experts and influencers in the field of project management to exchange knowledge and ideas. Congress speakers are selected for their passion and expertise, as well as their potential to share how they have achieved success in order to inspire others to action.
June 15, 2015
RefineM recently has the pleasure of working with two new nonprofit clients, Teen Challenge USA and Enactus USA. RefineM is providing project management resources to help each organization reach their goals. Teen Challenge USA offers guidance and resources for youth, adults, and families who struggle with drug addiction and other life-controlling issues, providing mental and emotional balance to their lives. RefineM is helping Teen Challenge USA accomplish their mission by providing consultation in IT project management. Enactus USA, an international non-profit organization, facilitates entrepreneurial activities by bringing together students and leaders in business and academics to implement community empowerment projects. By providing operational PMO, RefineM's tools and resources aids Enactus USA in empowering global leaders.
PMI, PMP, CAPM, PMI-ACP, PMI-RMP, and PMBOK are all registered marks of the Project Management Institute, Inc.