A Tiered Approach to Implement the Guide to the Project Management Body of Knowledge (PMBOK® Guide) [Infographic]
February 9, 2016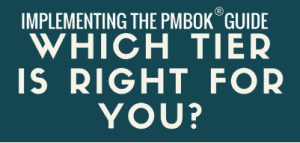 You're probably familiar with how complex the processes are in the Project Management Body of Knowledge (PMBOK® Guide), or else you wouldn't be reading this post. With years of experience, we've learned that not every project needs the full PMBOK® Guide.
There are many processes in the PMBOK® Guide. To be exact, there are 47 processes across 10 knowledge areas.
For each process, an organization needs to:
Learn how to implement the process
Learn best practices and pitfalls from experience
Refine and tailor the process to work best for them
However, we know that project managers today have less time and fewer resources available to deploy the full PMBOK® Guide. In fact, project managers may not even need every process on every project. Yet, which processes can you skip without causing problems? Where is the "sweet spot"?
A tiered approach can provide the answer: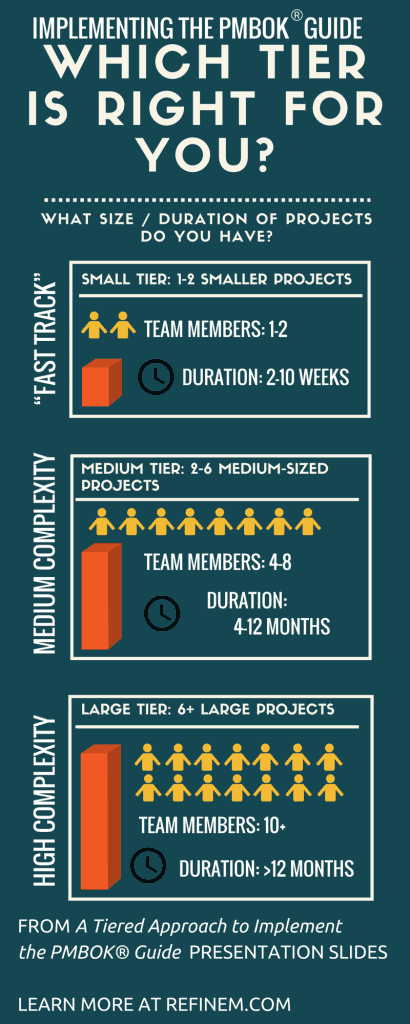 By following a tiered approach, you will be able to use the right processes for each project. By following a more simple set of processes, you will be more likely to achieve maximum results on each project.
To learn more about each tier and which processes to use in each tier, check out our presentation slides: A Tiered Approach to Implement the PMBOK® Guide.
PMBOK is a registered mark of the Project Management Institute, Inc.