Almost Seventy-Five Percent of Surveyed Project Managers Say Their Job Has Grown More Difficult
April 9, 2014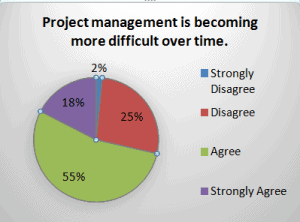 According to new survey data from RefineM, project managers struggle to find the right mix of project management processes to support increasing demands.
Springfield, MO, April 9, 2014—A project manager's core responsibility—to deliver projects on time and budget with the anticipated quality—has changed little. However, the factors that influence how they do their job have undergone a significant transformation. Three out of four project managers reported that their job has grown more difficult in a survey from RefineM, a project management consulting and training firm.
"About 90% of project managers report they are asked to do more in less time," said NK Shrivastava, CEO of RefineM. "But challenges go deeper than time and budget constraints. Projects have become more global, diverse and complex. And with resources stretched thin, team members must step out of their comfort zone, heightening the sense of pressure and risk."
On the flip side, project managers report that they see the project management function maturing, and 93% responded that they feel adequately trained to conduct their role as project manager. However, 61% of respondents agreed that the 47 project management processes described by PMBOK® can be overwhelming, and 72% responded that a smaller set of processes would be useful.
"Project managers struggle to find the sweet spot—too few project management processes means skipping critical steps which can lead to mistakes and project failure. Too many, and you add unnecessary complexity, waste time, annoy teammates, and lose credibility," said Shrivastava.
To meet this challenge, on April 22, 2014, RefineM will launch Essential Gear (Level 1), a toolkit of eight indispensible processes that have been streamlined to efficiently and successfully deliver a project. Many of these processes are already routinely part of a project manager's toolkit. For example, 97% of project managers say they use a project schedule on the majority of their projects. Other key processes are used less consistently according to the survey:
Project charter—used 52% on more than 75% of projects and 10% on 50-75% of projects
Stakeholder analysis—used 26% on more than 75% of projects and 28% on 50-75% of projects
Work breakdown structure (WBS)–used 39% on more than 75% of projects and 18% on 50-75% of projects
Resource allocation—used 39% on more than 75% of projects and 26% on 50-75% of projects
Communications plan—used 40% on more than 75% of projects and 22% on 50-75% of projects
Risk register—used 29% on more than 75% of projects and 18% on 50-75% of projects
Performance reporting—used 42% on more than 75% of projects and 25% on 50-75% of projects
About the RefineM Project Management Support Survey
RefineM conducted a survey of 64 project managers during January through March 2014 through SurveyMonkey®. More than 80% of participating respondents have more than five years experience as a project manager and 32% have more than 15 years.
About RefineM LLC
RefineM LLC, based in Springfield, Missouri, offers project management and process improvement training and consulting to help individuals and organizations deliver on their strategies and utilize project management as a competitive advantage. RefineM helps customers hone their project management capability by carefully listening to needs, helping to implement highly optimized project processes, deploying simple but effective tools and techniques, and training and mentoring project managers and project teams. RefineM's public and corporate training encompasses several areas:
Project Management Certifications
Project Management
Project Management Tools
Agile
Process Improvement
Strategy and Leadership
Visit us at www.refinem.com and on Twitter @RefineM.
# # #
Supporting Data: