5 Key Initiatives to Make Your PMO Shine
June 10, 2016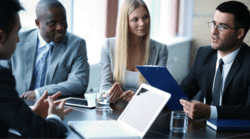 One of the key measures of a project management office (PMO) should be whether project delivery capability improves as a result of its existence. The PMO contributes to successful project delivery by providing standards for project management, empowering the organization's project managers, and increasing the visibility of project management. To accomplish these key goals and remain relevant, PMOs need to be dynamic and proactive rather than static and reactive.
In this post, we outline five proactive steps to take in order to establish, build, or improve your PMO. In a previous blog post, 5 Warning Signs Your PMO Could Do More, we described 5 symptoms of inaction that you could identify and fix. In this post, we highlight 5 opportunities to bolster your PMO and help it shine, improving project delivery capability throughout the organization.
1. Ensure all projects are aligned to organizational strategy
Before any project planning starts, benefits analysis should be performed on projects to evaluate the expected bottom-line return on each project and confirm that the project fits with organizational strategy. There should not be any project that the PMO is doing that is not aligned to organizational strategy or that is not necessary for other reasons, such as complying with new regulations.
2. Engage senior leadership and stakeholders.
One of the most valuable proactive steps a PMO can take is to increase its own visibility. If other divisions in the organization do not recognize the PMO, it's likely that they don't recognize the value of project management, either. To increase its own visibility, the PMO should engage senior leadership and stakeholders. Inviting key stakeholders to project kickoff meetings is a good way for them to see the value of project management. Once they are sold on this value, they can open additional doors for the organization's project managers. Proactively addressing stakeholders' concerns gives PMO leadership opportunities to make valuable connections in the organization.
Staying visible also helps guarantee the PMO's survival. As blogger Brad Egeland writes, "The senior leadership must buy-in…that is critical for funding, staffing and for ongoing visibility and company-wide usage of the project management office." To get not only the best impact out of the PMO, but also sustain it for future projects, PMO leadership needs to keep it visible.
3. Demonstrate the value that the PMO brings to the organization.
PMOs can demonstrate their value through the use of powerful metrics that show where projects are and where they are going. Metrics packages should incorporate leading metrics, such as return on investment (ROI) and risk contingency reserve ratio, in order to forecast future performance. Lagging metrics such as time to market, variances, and cost of quality (CoQ) are also indicators of project progress. Utilizing both in a dashboard provides a simple yet effective way of showing backwards- and forwards-facing project progress and demonstrating PMO value.
4. Simplify project processes.
Another of a PMO's most valuable contributions is setting standards for project management across the organization. While standards are important for consistency in project delivery, the standards themselves may not always fit all projects. We have found that organizations doing fewer projects at once, with fewer team members and shorter duration, may only need a few core project management processes to effectively manage projects. As the number of projects increases, team size increases, and complexity and duration both increase, more project management rigor is needed.
5. Develop a culture of collaboration with the organization and customers.
When a PMO is working dynamically and proactively within an organization, it is more likely to be perceived as having greater value to the organization and as contributing to successful project delivery. The same holds true even more when the PMO actively collaborates with other parts of the organization and reaches out to customers for validation and feedback. Project management in an organization should be seen as a collaborative or team effort, where the PMO is working as a facilitator to achieve the organization strategy.
PMOs need to be dynamic rather than static, and proactive rather than reactive. PMOs can achieve this positioning by aligning projects to organizational strategy, engaging senior leadership and stakeholders, utilizing powerful lagging and leading metrics, simplifying project processes, and contributing to a culture of collaboration with your organization and its customers. When your PMO takes proactive steps to demonstrate its value and provide additional value to your organization, your PMO is more likely to shine.
References
Egeland, Brad (2016, 12 February). "4 ingredients for PMO success." EPMLive. Accessed 6 June 2016.
PMBOK Guide is a registered mark of the Project Management Institute, Inc.