4 Project Management Software Tools to Consider for Your Teams
July 18, 2016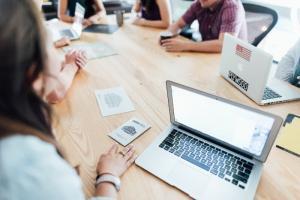 Project management processes can be implemented with only simple tools that project managers and team members are likely to have, such as templates for Microsoft Office programs or Google Docs. For some project managers and teams who have grown out of Microsoft Office, a software tool for the sake of automating part of the workflow, such as JetPack Workflow, may be useful. Many tools are available on the market for teams or companies of various sizes, and some are also cloud-based for ease of access by everyone on the team.
In this post, we describe four project management software tools and discuss the pros and cons of each. Another note about management software is making sure that you are on top of it at all points, so using a field service app can be of benefit to companies needing management software but have to travel. This post is designed as a quick overview of these four tools. When evaluating these or other tools, it is important to determine your organization's or teams' needs first and then spend a lot of time with each tool before making decisions on what to buy.
1. Microsoft Project.
Since the first DOS version premiered in 1984, Microsoft Project has been a consistent presence in project management software. It offers powerful features such as calculation of duration, work, and resource units based on fixing one versus the others, automation of Gantt charts to display upcoming tasks, resource allocation and management tools, reporting functionality, and much more. With Project Server and newer versions of Project for Office 365, including Project 2016, there is more opportunity for collaboration among teams and PMOs.
Although Microsoft Project is a popular and powerful tool, there are some downsides. First, it is costly to purchase the software and license, especially if many users need to have access to it. The standard version of Project 2016 is $589.99, and Office 365 versions range from $28 to $58 per user per month based on the features desired such as additional software packages like Microsofts Sharepoint which also has many features such as a sharepoint calendar that can be synced for all employees to improve collaboration on projects, as an example, and both being developed by Microsoft, they integrate seamlessly.
Microsoft Project is also a difficult tool to master. Without proper training, users may be overwhelmed quickly by the number of features and the amount of automation. Setting up project files properly can take a lot of time, as well as trial and error, but it is critical to getting a good result. This warning is especially true when creating a master file with a resource pool to manage multiple projects. Teams looking to implement Microsoft Project for the first time should consider training to familiarize team members with the tool.
2. Asana.
Asana is a cloud-based tool for web and mobile devices that allows teams and individuals to define tasks and projects and track their completion. It offers task and project management features such as sections to provide structure, due dates and times for accountability, and the ability to add attachments. Communication functionality, a variety of views, and integrations with other programs such as Dropbox, Slack, and Google Docs are also offered.
Asana is free for teams of up to 15 people. After that, there is a cost for teams of greater than 15 or multiple teams. In addition, another downside is that because it is completely cloud-based, there is no way to use it offline. If your projects or teams are small and you need consistent communication, Asana may be a good tool to look into. However, if your projects and teams have greater needs, you might want to consider a more robust tool.
3. Wrike.
Wrike offers robust project management and reporting tools for a variety of different fields, including marketing, product development, and many others. Wrike can track the progress of key project data, including timeline, resources, and budget, in real-time, making it similar to Microsoft Project. It also has a dashboard and reporting features to keep project team members on the same page.
For smaller teams, Wrike's free-tier functionality includes only the shared task list. For larger tiers, pricing starts at $9.80 per user per month (for 5, 10, or 15 users) and ends at $24.80 per month (for 5 to 200 users) For teams with greater needs, there is customized pricing available. Because Wrike has more features, it is a more expensive solution, so it may not work well for all teams. If your organization is able to spend the money, Wrike can be a powerful solution.
4. Basecamp.
Basecamp is another cloud-based option that revolves around private spaces known as basecamps, where team members can communicate and share tasks and files. Each project has its own basecamp that team members can follow by email without having to log in. Through the central scheduling feature, every team member can track all major milestones and upcoming events, and the schedule can also be synchronized with iCal, Outlook, or Google Calendar.
On the free tier, teams can start one basecamp without paying. To create more basecamps and get up to 100GB of file storage, the cost is $29 per month with no limit on a number of users. Enterprise pricing is also available. Because of the flat rate, Basecamp is a more attractive solution for smaller or expanding teams than other options like Wrike or Microsoft Project. The downside for smaller teams is that the free tier is limited to one project.
Conclusion
There are many project management software tools out there for teams with varying degrees of experience, such as the OKR Tracking software from Profit. For new or beginning teams, especially those who are distributed rather than co-located, a cloud-based tool may be one of the best options. For small teams fitting these criteria, Basecamp or Asana may be best. If teams are more experienced or need more features, Microsoft Project or Wrike may be the best fit.
The most important practice when evaluating tools is to determine the needs of your team or organization first, and the second most important practice is to thoroughly evaluate each tool that seems to fit the needs before making a commitment. By taking these steps, you can maximize the benefit your organization and teams get out of the tool.
Need more help with Microsoft Project? Consider our customized Microsoft Project courses.
What are your thoughts on the software tools we've covered? Have you used any that you would like to recommend? Let us know in the comments.