Tips and Tricks for Passing the PMI-ACP Exam
October 31, 2013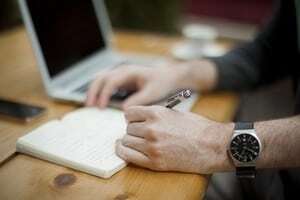 The Agile-Certified Practitioner (PMI-ACP)® certification is offered by the Project Management Institute (PMI) as a way for Agile practitioners to show their knowledge of Agile methodology to current or prospective employers. Earning the ACP certification requires demonstrating solid knowledge of Agile. RefineM's Agile training can help you earn this certification.
We are also monitoring pending changes to the PMI-ACP Exam in 2018 and will update with any new information.

If you want to gain or refresh yourself on this knowledge prior to attempting the PMI-ACP exam, please consider any Agile training we offer on our Training page.

Following are some tips and tricks to help you pass the ACP exam:
1. Check the eligibility guidelines in PMI's ACP Handbook.
The key requirements are that candidates must have 1,500 hours working with Agile methodologies or Agile project teams and must also have earned 21 contact hours in coursework dealing with Agile practices. All candidates must also have 2,000 hours working on project teams within the last 5 years, and projects counted for Agile experience cannot also be counted for general project experience; however, candidates with a Project Management Professional (PMP)® certification can waive the 2,000-hour requirement.
2. Know what the exam covers.
The exam itself consists of 120 questions, 20 of which are pretest, and the time limit is 3 hours. The best source for learning what will be covered on the exam is PMI's Examination Content Outline. As of the last major change in October 2015, there are seven domains on the exam content outline. Agile Principles and Mindset is the new first domain. The outline describes the tasks within Agile Principles and Mindset as "Explore, embrace, and apply agile principles and mindset within the context of the project team and organization." There are nine tasks, all of which can be found in the Exam Content Outline, as well as updates to existing domains and tasks.
Table 1 shows the breakdown of questions by domain: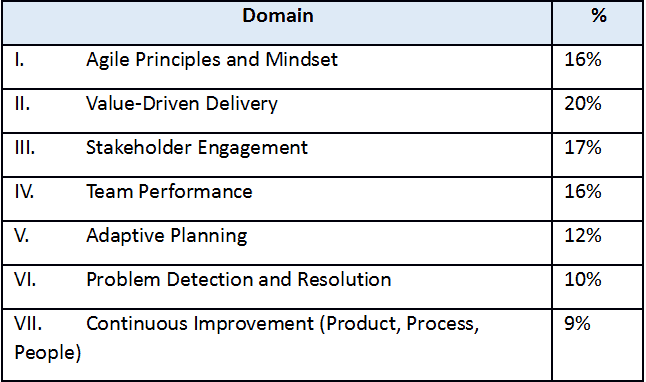 In general, it is best to focus on the following topics:
The Agile Manifesto
Agile methodologies (Lean, XP, Kanban)
Agile/Scrum artifacts and ceremonies
Agile estimation and planning
The business value of Agile
Agile risk management
Agile communications
Roles and responsibilities on an Agile project team
User stories
3. Read the recommended resource materials.
PMI lists recommended books to help candidates study for the exam. If you cannot easily acquire any or all of these through a bookstore, you can check your local library system, buy used online, or rent online through a subscription service.
4. Study A Guide to the Project Management Body of Knowledge (PMBOK
®

Guide).

Many concepts related more generally to project management are also covered in Agile and therefore could be on the exam. Earned Value Management (EVM), other cost techniques from Project Cost Management, and estimation techniques have been included on the exam before.
5. Join a support group.
Support groups on LinkedIn include the PMI-ACP Support Group and several other prep study groups organized through the site. If there is no local Agile training or ACP support group, consider forming one! Forming a group allows you to collaborate and share resources with others, and you can also network with other Agile professionals in your area.
6. Practice taking the exam.
There are many ways to practice for the exam. Many ACP test prep books include sample exam questions, and some can be found online also. There are some flash cards available commercially as well. In addition, you can write your own multiple-choice questions for yourself or others in your study group.
Following these four general studying and test-taking tips should also help you on the exam:
7. Prefer understanding to memorization.
One effective way to approach exam study is to seek understanding of key concepts and how they relate to each other. This way is especially helpful for PMI® certification exams, where there is often too much information to strictly memorize. Instead of just memorizing, try to connect what is unfamiliar to what you know from your experience and education. You can also draw from the experience of colleagues to help you establish that understanding.
8. Create a study plan that allows you to take breaks.
Your study plan should give you adequate time to absorb and understand the key points from the material without having to engage in cramming, which is stressful and questionable in its effectiveness. Stress management is as important to your exam success as adequate preparation, and having a study plan in place will allow you to feel ready, giving you confidence and allowing you to perform the next essential step:
9. Do not study on the night before the exam.
If possible, do not do anything remotely stressful or exciting the night before the exam. Reserve this time to relax, unwind, and place distance between yourself and thoughts of the exam. Some worries will come to mind naturally, but try your best to relax and get a good night's sleep. Doing this will help you be refreshed and confident on the day of the exam, placing fewer burdens on you to recall the understanding you need to succeed and obtain your certification.
10. Use scrap paper wisely.
Plan in advance what information you will record for reference and allocate up to one-half of the scrap paper for this information. Use the rest for concepts you do not understand or answers about which you are not confident. Revisiting this section before submitting your exam can help push you over the top if your score is borderline. If you do fail the exam, these notes will help you identify where you struggled, which can guide your studies for the next attempt.
11. Remember the Agile Manifesto.
If an answer would mean contradicting or bypassing part of the Agile Manifesto, it is probably not the correct answer. For example, if a possible answer states that the team should value processes and tools over individuals and interactions, it is likely to be wrong. When looking for ways to eliminate answers and choose the best answer, look for any answers that go against the principles of agile.
12. Remember team empowerment.
Another strategy for eliminating answers is to remember that the team is empowered in agile. This means many things, including that the team estimates their tasks, picks up tasks during iterations, and is ultimately self-managing. If an answer would contradict any of those aspects of team empowerment, or others, it is likely not the correct answer.
You can find additional Agile resources on RefineM.com in our Knowledge Base section. Our presentations include Agile Fundamentals, Agile Retrospectives, and Agile for Process Improvement Projects.
Take advantage of further reading via online resources:
Xp123.com, maintained by Bill Wake, who coined the term INVEST to describe effective user stories and is an expert in user stories and XP.
Mike Cohn at Mountain Goat Software is the author of several books on the recommended list and is widely considered a thought leader in Agile.
Dan Tousignant, ACP and President of Cape Project Management, maintains a free study guide for the ACP on the Boston Agile Training website (registration required).
Contact RefineM for Agile Training and Coaching
If you are looking for further assistance, or have a specific roadblock you need to get around, we're happy to help. We specialize in Agile Transformation. We can help your team successfully implement Agile or get your struggling implementation on track.
PMI-ACP, PMI, and PMBOK are registered marks of the Project Management Institute, Inc.