Timeline for Passing the PMP Exam
February 8, 2023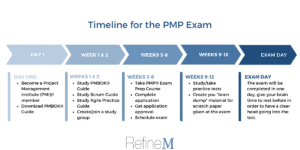 One common question for project management practitioners looking to achieve their Project Management Professional (PMP)® certification is, "How much time do I need to get ready?" The range that is typically recommended for taking the PMP exam is 2–6 months. How long your preparation takes will depend on how many hours you are able to put towards studying. Those who do not allow themselves enough time to study and develop a plan often don't pass on their first try. So, you should set a realistic timeline and follow it closely. The three-month timeline below is a fast-paced track to taking the PMP exam.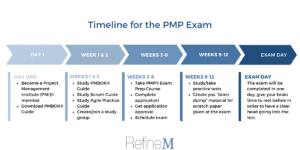 Click to enlarge image
This infographic corresponds to the table below, which shows recommended activities and timeframes to prepare for the PMP certification exam. Not all of these activities are required, but they are highly recommended.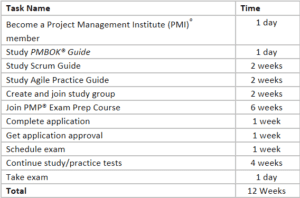 Click to enlarge table
The following is an overview of these steps: 
Become a PMI

®

Member.

Being a member of PMI has many benefits. The most important

benefit

for

exam prep is

the free

access to a digital copy of the

Guide to the Project Management Body of Knowledge

(

PMBOK® Guide

)

and the Agile Practice Guide.

 

Download &

Study the

PMBOK® Guide

, the

Scrum Guide

, and

Agile Practice Guide

.

The

PMP Exam is based on the

PMI's Exam Content Outline

.

Materials to study in the outline include the PMBOK Guide, Agile Practice Guide, and the Scrum Guide.

S

tudy

the

PMBOK® Guide

to

learn the project management processes, their inputs, tools and techniques, and outputs, and key formulas. It is not necessary to completely memorize every part, but make sure you understand why a particular input or technique would be used. This understanding will be helpful because you can then apply that logic to questions you struggle with.

The Scrum Guide and Agile Practice Guide will be supplemental material to cover agile topics. The PMBOK Guide is not a

n exhaustive

resource for the exam

, so it is important to study other resources that will provide coverage for the topics absent

in

the PMBOK Guide.

Another resource for Agile topics is

RefineM's

self-paced

Agile Fundamentals course

.

 

Join a study group.

We recommend that you join or create a study group because working with others helps to reinforce your study. Depending on who joins and what experience they bring, it is also a valuable opportunity to learn from other project managers and improve your own career. If you cannot find others in your local area, consider online study groups as well.

Our

exam prep course

also

provide

s

a

ccess to a

community of project managers who are also studying for the PMP Exam.

 

Join a PMP Exam Prep Course.

If you do not already have 35 contact hours in project management education, you will likely need an exam prep course.

RefineM's PMP® exam prep course

is aligned to

PMI's Exam Content Outline

and covers the PMBOK® Guide, Agile Practice Guide, and other resources. The course incorporates real-life examples from project experiences to make it more relevant to your project environment while you learn the most critical parts of each domain and task in the exam, understand where your knowledge gaps lie, and receive the individual attention needed to close these gaps. You also receive PMP® exam test-taking tips and tricks to improve your confidence. We offer multiple practice exams throughout the course, and a full-length practice exam at the end of the course.

Shorten the period it takes to complete a PMP prep course by taking a weeklong class with full days of instruction instead.
Apply and schedule the exam.

Many applicants are surprised by how long the application process takes for their exam. This time is necessary

to plan for

because you need to document your project experience across the five project management process groups and will need to be able to provide references for this time if you are audited. You can help this process by documenting your time as you proceed, but still, be prepared to spend

plenty

of time logging and verifying your experience.

 

Continue to study and build your "brain dump."

If you take the exam at a testing center, scratch paper will be provided for you, so, o

nce you have your application approved and can schedule your exam

, start creating your "brain dump."

The "brain dump" should include items and formulas that need to be memorized for your exam

(don't forget, this now cuts into your allotted exam time)

. Continue to take practice tests and collaborate with others as you prepare for exam day. Strive for a goal score of 85 percent on your practice exams.

 

Finally, remember to stay calm and set aside some time to relax.

If you set a solid plan and follow it closely, you will have done much of the hard work before the last few weeks roll around. Although those last few weeks are still crucial, getting the hard work out of the way will allow you to focus on the exam itself.

Avoid cramming right up until the exam, give your brain a break to absorb the information before the exam.

 
Exam Prep Resources:  All of the resources can get confusing, download our PMP Exam Prep Materials to see side-by-side what they are, when to use them, how to access them, and how necessary they are.
RefineM's Agile Fundamentals course
PMI, PMP, and PMBOK are registered marks of the Project Management Institute, Inc.