RefineM Helps Multi-Craft Contractors Standardize Processes
April 28, 2019
Scott Barrows had growing pains. The COO of Multi-Craft Contractors (MCC) saw the potential for growth but knew he needed to sharpen MCC's edge in the highly competitive industrial construction landscape. To pull ahead of the competition, Barrows sought out RefineM's help to build consistent processes and get 11 divisions of his company on the same page.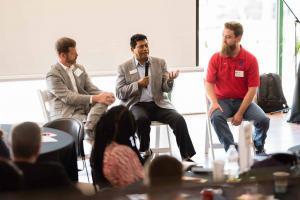 "[RefineM's] presentation focused on business improvement and return on investment," Willis explained. "What's more, the approach was 'I'm gonna tailor this for you, teach it to you, and if you want me to, I'll be a partner with you.'"
Barrows was also impressed with RefineM CEO, NK Shrivastava. "NK is very knowledgeable. For every question, he not only had an answer, but a good answer."
RefineM evaluated MCC's initial capabilities and interviewed its leadership. This formed the basis for a tailored training program that included multiple courses aimed at different levels within the company. Feedback for this customized approach was highly positive.
"NK's depth and breadth of project management and leadership knowledge….dramatically changed our project management processes," said Willis. "In the places where the tools and training have been implemented, we're seeing more efficient management of projects that's leading to better management of resources, and I think in the long run it's going to lead us towards more projects that are done on time [and] under budget."
Barrows was also pleased with the choice. "We liked their flexibility. NK didn't try to sell us what he had in a box. He focuses on real business needs."
For more information about this success story, read the full story here.