Seven Tips for Passing the Certified Associate in Project Management (CAPM)® Exam
September 14, 2015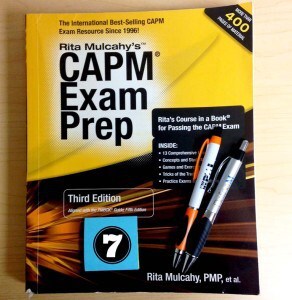 The Certified Associate in Project Management (CAPM)® exam is changing to account for updates to A Guide to the Project Management Body of Knowledge (PMBOK® Guide) Sixth Edition. All exams will be for the Sixth Edition as of May 21, 2018. From March 12-30 and March 31-May 20, candidates can take the Sixth Edition version of the English language exam and save money on their exam fees. Learn more at PMI.
The Certified Associate in Project Management (CAPM)® certification is for project managers who want to show their credibility or start taking on more project management roles. Anyone who has a secondary degree and at least 1,500 hours of project team experience, or at least 23 hours of project management education, is eligible.
These requirements are less strenuous than the Project Management Professional (PMP)® which requires both experience and education hours. The CAPM certification exam also has fewer questions than the PMP exam, takes less time, and draws solely from A Guide to the Project Management Body of Knowledge (PMBOK® Guide). In contrast, the PMP exam covers both the PMBOK® Guide and situational questions where project managers must draw from their experience to determine the best answer.
While the CAPM exam is not as involved as the PMP exam, it is not an easy exam. Candidates need to develop a strong study plan and study routine. In addition, they need to develop strategies to manage their confidence on the day of their exam. In our experience, candidates who cannot devote regular time to study or manage their time and confidence during the exam are more likely to fail. These tips help you prepare for and take the exam with confidence.
Read the PMBOK® Guide.
Any CAPM candidate needs to read the PMBOK® Guide at least once, if not twice. The PMBOK® Guide is the primary source for exam questions, so you need to be familiar with it. Second, reading the PMBOK® Guide all the way through gives you more knowledge about its structure, which will help you look up key topics later on. If you need a copy of the PMBOK® Guide, you can purchase one at PMI's store. If you are a member of the Project Management Institute (PMI)®, you also get a free digital copy.
On your first time through the PMBOK® Guide, we recommend reading and taking notes on a maximum of one knowledge area per day. At this pace, you will get a quick overview of processes and learn more about how the guide works. After you are more familiar with the PMBOK® Guide, you can go back through and take more detailed notes in order to develop a greater understanding.
Use other study materials.
Rita Mulcahy and Joseph Phillips have CAPM books that work well for exam prep in addition to those they publish for the PMP Exam.
If you come across a source that tells you there are topics you will not need to know for the exam, make a note to study these topics later so you are better prepared to take the PMP exam later.
Develop a study plan and dedicate a regular time to study.
If you want to pass the CAPM exam, you will need to have a plan to study in manageable chunks and establish discipline to follow through on the plan. The study plan includes what you are studying, how much time you plan to spend per day, what topics you plan to cover, and what materials you will use.
Make sure you have time to change your plan based on practice test results. For example, if you scored low in risk and procurement management topics on a practice test, you should change your study plan to emphasize those knowledge areas to bring yourself up to speed.
Whether you are self-studying or participating in a class, you need to be able to devote time to regular study in order to be adequately prepared for the exam. We have found that many CAPM test candidates do not need a boot camp, but it is vital that you are adequately prepared before you sit for the exam.
Find experienced project managers who can help you.
If you're new to project management, you may not fully understand all the material in the PMBOK® Guide. This understanding is important to exam success, since memorizing all of the ITTOs is very difficult and will not help you as much in your career as having a good understanding of concepts. Take the time to find an experience project manager who can help you understand these concepts. You might look at local PMI chapters or check your professional networks for anyone who has the CAPM or PMP certifications. Learning from an experienced project manager will help you pass the CAPM by helping you develop better understanding of the material. This understanding will also guide you in your career.
Take practice exams and note where you struggle.
Consider the following when looking for practice exams:
Do you get a rating of how you did in each area? PMI provides you this rating when you finish your actual exam. Any area where you score Low Proficient needs more attention.
Do the answers give you references to the PMBOK® Guide? Looking up these references is a good habit because you get immediate feedback about how to get the question right next time.
Manage your practice exams by keeping the following factors in mind:
If the questions don't change, then don't take the exam more than twice. After two passes through, the exam is of less value because you remember too much. If a resource's exam questions are drawn at random from a database, you can probably take it more than twice without significant repeat of questions.
Aim for a score of 85 percent. If you can achieve this score, you should feel confident in passing your real exam.
Prepare early for the application and scheduling process.
Even though the CAPM application is not as lengthy and involved as the PMP application, you still need to prepare for it. Get information ready about your experience or education hours and be prepared to provide documentation in the event of a PMI audit.
If you've struggled to find a testing center, PMI is now offering online proctored testing for the CAPM exam. This is a great option for anyone who lives far away from the nearest testing center. Learn more at PMI.
If you plan to take your exam at a testing center, start your application early to minimize the stress of searching for a center. Check back often before you finalize a date, since new testing opportunities may open up at any time.
Manage your time and confidence during the exam.
Managing your time and confidence during the exam gives you the best chance to succeed. Don't spend too much time on any one question. We recommend spending no more than 30 seconds on a question during the first round, and marking any for review that take longer to complete. When you've completed your first round, you can then go back and spend more time on the marked questions. Give yourself a minute for these, and then as a final pass, take your best guess or employ some kind of strategy (like putting all answers as B or C) on any that are still blank. Never leave a question blank. There's no penalty for guessing, but any blank question is 100 percent wrong.
There are several strategies you can use to manage your confidence. Remember to smile, as it will encourage you to relax. Take short mental breaks with the time you save using your time management strategy. Remember also not to get stressed out if there's one really hard question. It could be one of the pretest questions. Just mark it and move on.
We hope that by following these tips and tricks, you will be able to obtain your CAPM certification. Passing this exam helps you clear a large hurdle and shows your competence and commitment to project management. If you need further guidance, please get in touch with us at Trainings@RefineM.com. We're happy to help.
Do you have any other concerns going into your CAPM exam? If you've passed the exam, what other tips have you found useful? Please let us know in the comments.
PMI, PMP, CAPM, and PMBOK are registered marks of the Project Management Institute, Inc.