How Outcome-Based Agile Transformation Services Can Help You Achieve The Results You Want
June 19, 2019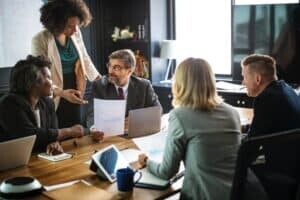 We believe Agile can significantly improve a team's capability to deliver tangible outcomes quickly. In fact, because we are so committed to developing Agile capabilities—and to accelerating business outcomes—we are pleased to offer our clients new Outcomes-based pricing as part of our Agile Transformation practice.
What is Outcomes-based Agile Transformation? Outcomes-based Agile Transformation means that we work with you to define outcomes that you wish to achieve in tandem with concrete metrics to gauge your success. Our compensation is then directly tied to your achievement. In other words, we only get paid when we demonstrate outcomes based on the metrics we had developed together.

What are typical outcomes we measure? We may pre-define one, two, or more desired outcomes. They may include, for example, 1) reduced time to market for new products and services, 2) your improved agility, 3) improved customer satisfaction, 4) reduced risks, 5) savings resulting from improved processes, and more.

How does the model work? Let's walk through an example, looking at a process that is common to any type of business, but is one that you might not have thought about targeting using Agile methodology. Onboarding new employees is often an onerous and tedious process. Beyond the paperwork—gathering and completing the tax forms, benefits enrollment, employee handbooks, legal forms, and so on—new employees need to have their work space and other needs managed. This may include, for example, a laptop and monitor, software credentials, access codes, parking permits, office space, ergonomic chairs, key fobs, security clearances, and more.
We recently talked to a client with a large global organization who told us that their process takes on average four days to onboard a new employee. The client felt that this was excessive, and a loss of productivity, but he struggled to justify applying the time and expense to invest in improving the onboarding process.
To gain a better understanding of the business problem, we worked with him to develop an estimate of onboarding costs. The client estimated that roughly 100 people were onboarded a month, equating to 4,800 days a year. When he multiplied that by an average $500-per-day cost per employee, he was stunned to realize that onboarding cost his company approximately $2.4 million dollars a year.
If Agile methodology was applied to reduce the onboarding process by only 10 percent, which the client agreed was a very conservative estimate, the organization could save approximately $240,000 in "wasted" time. This would represent not only a tangible savings, but it would, bring people on board more quickly so they could begin applying their skills and talents to the productivity of the organization.
To illustrate our outcome-based pricing model at work, let's introduce RefineM into this scenario. Let's say that RefineM is brought on board to apply Agile methodology toward the desired outcome of shaving time off the onboarding process. At the culmination of the project, if $240,000 in savings was achieved (10 percent reduced onboarding time) as the tangible outcome of our work, our compensation would, in turn, be drawn from that outcome, meaning that the client would have been working with us at zero risk.
In this way, through Outcomes-based pricing, we can ensure that our relationship with our clients is—exactly as we like it to be—outcomes-oriented, collaborative and entirely self-funded.
We believe this pricing model will be a game changer for the quality of our engagements in our Agile transformation practice. Instead of estimating hours, calculating time on site or other scope-related issues, our mindset—and our client's mindset—will be fixed exactly where it should be—on achieving the desired outcome. Simple.
We invite you to set up an appointment with NK Shrivastava, Enterprise Agile Coach, to discuss Outcomes-based Agile Transformation further.