December 14, 2016
Develop Project Schedule Using WBS
Please contact us if you would like to set up a customized training course in your city or at your corporate site.
Duration: 1 day
Description: Schedule management is one of the most critical parts of project management. Stakeholders expect to see a project schedule and receive updates on a regular basis. To effectively create and maintain a schedule requires a strong work breakdown structure (WBS). How do you create an effective WBS, and how do you use the WBS to create the project schedule?
In RefineM's Develop Project Schedule Using WBS course, you will learn more about the key processes in scope and schedule management used to create an effective WBS and corresponding project schedule. You will learn how to create the WBS and validate it with stakeholders. You will learn how to use the WBS to define and sequence activities in order to build a network diagram and project schedule. Through individual and group exercises and hands-on instruction from a PMP-certified instructor, you will learn and reinforce the concepts of the course. You will leave this course with the knowledge and skills to build effective project schedules using the WBS.
Course Objectives:

After completing the course, you will be able to
Understand how the WBS contributes to the project schedule.
Define and sequence activities from the WBS.
Build effective WBS and schedule on your real projects.
Who Should Attend: This course is ideal for project managers, project team members, PMO leads/directors, and stakeholders.
PDUs: 7 PDUs (Strategic: 0, Leadership: 0, Technical: 7)
Course Delivery: Variable
Course Material: RefineM will prepare and provide the necessary training course material for all attendees.
About RefineM's Instructors: RefineM's instructors are experienced and certified in project management and Agile and bring real-world experience to their instruction. Our instructors not only teach concepts, we also provide insights and hands-on experience. And we don't waste time. Our training is focused and hard-hitting. We offer practical targeted training in just the key topics that will make the most impact.
Contact us about future dates or to arrange for this training to be delivered in your organization or city.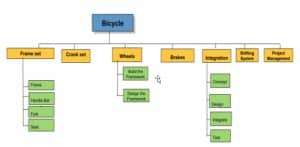 April 14, 2014
This is Part Three of our series on the "Eight Powerful Project Management Processes," a look at the project management processes that we have found in our experiences to be most crucial to project success. Previously, we have examined the project charter and stakeholder analysis; in this post, we take a closer look at the Work Breakdown Structure (WBS). If you are interested in any of these eight processes, we recommend you also look into our upcoming product, Essential Gear for Project Managers Level 1.
PMI, PMP, CAPM, PMI-ACP, PMI-RMP, and PMBOK are all registered marks of the Project Management Institute, Inc.