Will Agile Training Benefit My Business?
June 22, 2017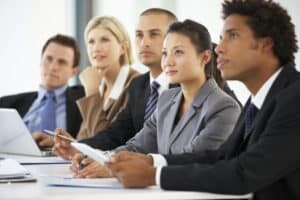 The Business Benefits of Agile Training
When your business is not performing as well as you would like, you may seek out different project management training services to bring your company into better efficiency. The Agile training services from RefineM can be a great benefit for your business.

Tangible Results
The most important element to any training program is its ability to produce tangible results. With Agile training through RefineM, the top focus of the program is to create an atmosphere that generates an increase in positive results for your business. Agile training can help reduce time for marketing products and services as well as create quick responses to changes, improve customer satisfaction (which creates repeat customers), and reduce risks for your company. Companies that have undergone the Agile transformation have reported faster growth and higher profits as well as improved employee morale.
Methodologies That Fit Your Business
Unlike many other project management training courses, Agile training has several different methodologies specifically designed to benefit companies in a variety of different industries. This means that there is a method under the Agile training spectrum that is perfect for your business. The RefineM consultants are experts in each of these methodologies and will work with your company to find the correct option for your needs and tailor the program for a customized and effective training program.
A Cultural Shift
Agile training accomplishes higher productivity and improved company morale by creating a cultural shift for the business. Many issues develop within a company when the environment allows distrust and disharmony between the employees and between employees and management. A full company cultural shift is necessary to truly take your business to the next level. With Agile training from RefineM, your business will have the strength in leadership and planning abilities to execute such a company-wide change. A shift of this magnitude cannot be done in bits and pieces and still be found effective. It will take some time to create a more productive and healthier atmosphere, but with the right guidance and training from RefineM, your company will be all the better for it.
Agile Training Services from RefineM
If your company is in need for a significant change to become more productive and profitable for years to come, Agile training from RefineM is a great solution. Our expert consultants will work with your company to create a plan to shift into a time of peak optimization and efficiency. For more information on the Agile transformation or any of the other project management services we offer, fill out the form below.